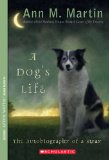 Help us, help our dogs, by clicking on the picture! Order the book by Amazon
brief description
Born in an unused shed 'The Autobiography of a stray' is the story of 'Squirrel', born one of two surviving puppies to a stray dog who arrives at the shed seeking shelter to give birth to her litter.
Separated early on from first her mother then her brother, Squirrel's tale, told in her own words is compelling and great reading. Never staying anywhere long, living mainly on the outskirts of small towns, coming into contact with humans both kind and cruel, taking what shelter she can from the elements and surviving on scraps and small mammals, Squirrels story is both heartbreaking and lovely at the same time.
The book is aimed at 9-12 year olds but would be loved by anybody. Beautifully written, it's a harsh tale of survival that will melt your heart.


How do placements work? Anyone interested in one of our animals can contact us by email or telephone to discuss the details. Dear animal lovers, you may of course drop in or perhaps arrange a vacation in the beautiful north Euboea and get to know and collect your pet-to-be directly from our place. Otherwise, we can organise transport to Germany together with the necessary paperwork, vaccinations and chip identification. This is all naturally compliant with EU laws and is completely legal! We will carry the costs of veterinary treatment, chip etc. thus assuring you that we are not operating a commercial dog placement agency, but are rather acting purely out of our love of animals and our willingness to help without any financial gain.